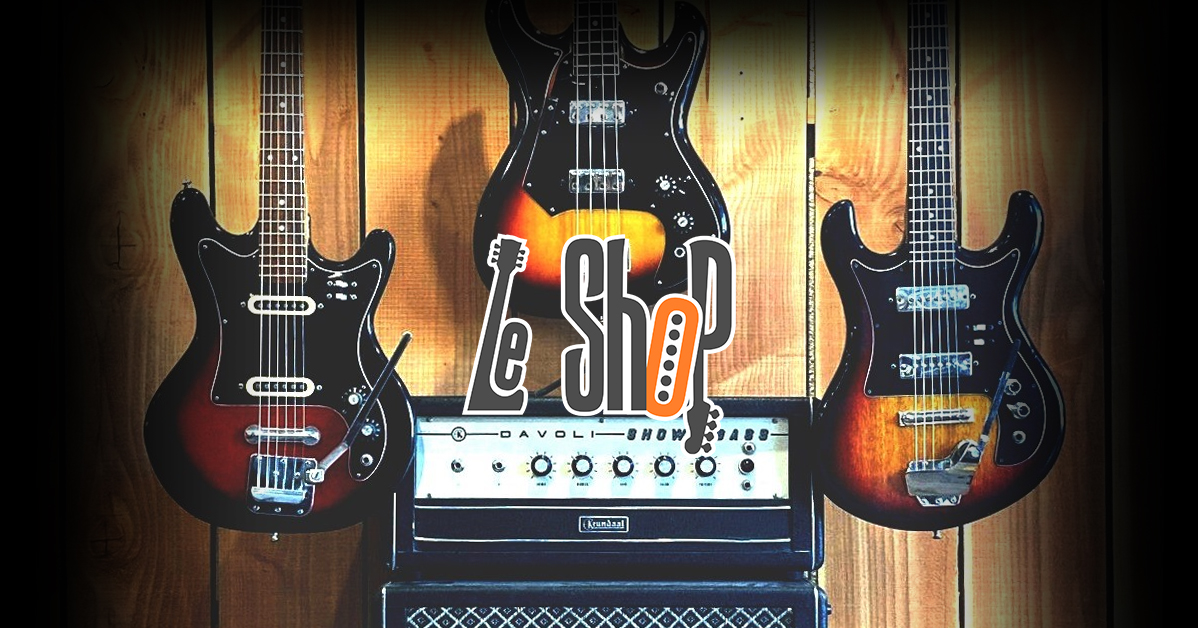 Le Shop is THE place in Lyon (France) for guitar passion, offering guitarists & bassists a large choice of used and vintage gear for all styles and budgets.
Guitars, basses, amps et effects
have all been tested and evntually repaired, they can be tested in our Shop or ordered online.
Our approach
The second-hand market is full of instruments and equipment that largely compete with new. But despite the attractiveness of the prices, it remains difficult for a musician to combine this offer with a real professional service.
With Le Shop, we wish to bring together an exhaustive instrumental inventory combining the advantages of the second hand prices and choice with the benefits of a professionnal organisation and skilled team to guide and help you through your researchs and transactions.
Our facilities also hosts two independant workshops :  Sagarramp (vintage amps and electronics) and Promeüs (luthier), in order to offer all kind of services for guitarists and the bassists.
Professional service
All instruments and gear is tested and eventually repaired and sold with limited lifetime warranty (depends on the price and type of gear). Please reach us (e-mail, phone or contact page) if you have any request. We will be glad to provide you additionnal information, photos and even video.
We have been selling worldwide for years and are very serious and carefull when it comes to packing and shipping with insurance. Please ask if you have any interrogation about packing and shpping.
How to order ?
Simply shop your gear, add it to your cart and validate to process payment. If you don't have a user account, you will have to create one. The shipping costs will be calculated at the end of the process with your delivery address.
We accept credit card (secure payment application provided by our bank) and money transfer (just have to ask for our account informations).
VISIT LE SHOP IN 360° WITH GOOGLE STREET VIEW
(images from june 2018)
More than a simple store, Le Shop gather three independant yet connected activities related to the guitar world, in order to provide the best experience for  all guitarists and bassists

Vintage and used guitars, basses, amps and effects
We sell & buy
Great choice of new accessories, strings, and parts

Custom Amplification
Service & repaires :
Tube Amps - Analog FX - Vintage Musical Electronic

Appointment only : 06 09 41 09 69